Details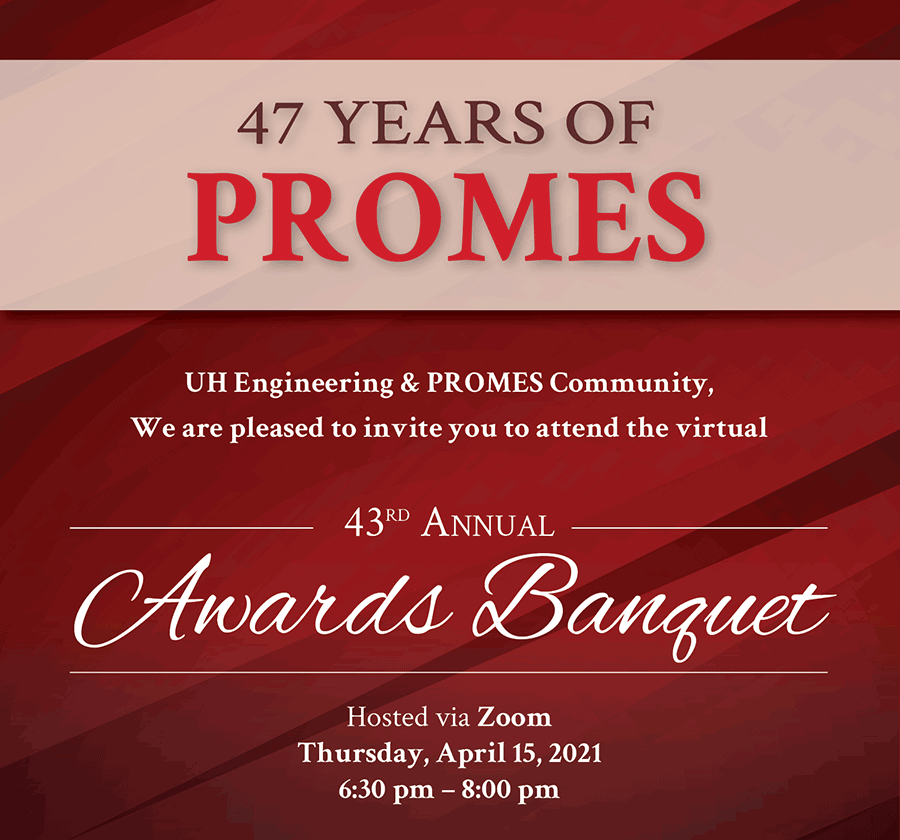 Guest Speaker: Cindy Sanchez
Cindy Sanchez graduated in 2017 from the University of Houston with a bachelor's degree in industrial engineering. She currently serves as Project Coordinator of Subsea Production Systems with OneSubsea. During her time as a student, she was an active member of the PROMES Action Committee, Society of Hispanic Professional Engineers, Phi Sigma Rho Engineering Sorority and other organizations. Cindy is currently the Secretary for the SHPE Houston Professional Chapter and coordinates the SHPEtina Scholarship, which is awarded to UH female students in SHPE.
---
Our virtual event will have faculty and staff present and recognize students who have had outstanding academic and leadership success.
Registration & Sponsorship Information
Individual Registration: $5.00
Bronze Sponsor: $50.00
Silver Sponsor: $150.00
Gold/Friends of PROMES Sponsor: $300.00
Platinum/Partners of PROMES Sponsor: $500.00
 
Additional details about each sponsorship level can be found on the event registration page. For more information regarding event sponsorships, please contact Minerva Carter at mgcolema [at] central.uh.edu or Draven Pascual at dfpascua [at] central.uh.edu.
All attendees must register online for the event. Registration must occur by Wednesday, April 14 at 5:00 pm CST. Log-in credentials for the event will be sent via email prior to the event. All questions about the event can be directed towards Minerva Carter at mgcolema [at] central.uh.edu.
We hope to see you there to celebrate
a successful PROMES year!